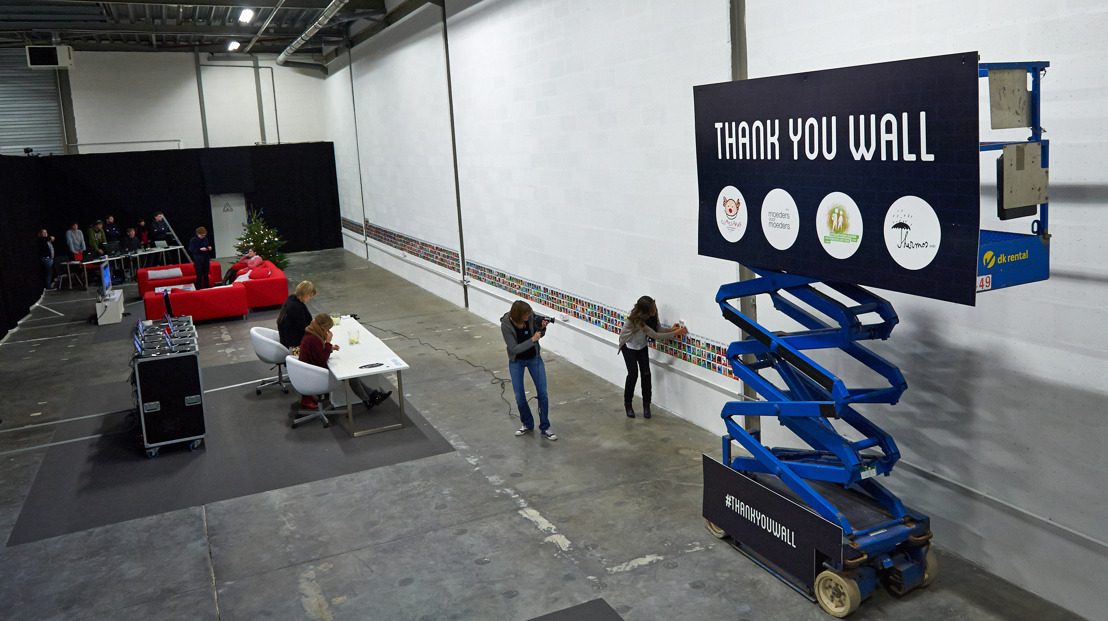 The ThankYouWall 2013
1 Click = 1€ !
Wednesday, December 18, 2013 — For the second consecutive year, Eventattitude and Social Lab teamed up to place the ThankYouWall for the National Lottery. The goal set for 2013: to raise € 20.000, € 5.000 more than the € 15.000 collected in 2012, and to live print and hang 15.000 photos.
As from 16 December 2013, every click registered on the National Lottery's Facebook app will be transformed into one euro. The goal is to collect 20.000 clicks and thus raise € 20.000 for the 4 selected welfare organisations.
To thank the participants for their support and to highlight their generosity, more than 120 volunteers will be working 24/7 to hang their profile pictures on a 250 m² wall. In 2012 almost 10.000 profile pictures were printed and put up this way.
The ThankYouWall application allows for everyone to view in real time how their photo is being printed and put onto the ThankYouWall by the Eventattitude and Social Lab volunteers. It also allows for visitors to check out the wall from different angles.
https//apps.facebook.com/thankyouwall
Eventattitude and Social Lab are investing in this project by offering the services of all their collaborators (more than 75 in total).
This action is a challenge on both a human and a technical level.
-24/7 dozens of volunteers are on-site to guarantee that all profile pictures will be put on the wall.
Each part of the action, from printing to hanging up the profile pictures, is filmed and broadcasted via a live streaming channel on the Facebook application.
A set-up of 10 printers makes it possible to print a photo every second of the action. 3 fixed cameras and 1 mobile camera film the ThankYouWall non-stop. The wall itself is 35 meters wide and 7 meters high. A cherry picker is present to put the photos up on the higher end of the wall.
This year, each participant is given the opportunity to decide what organisation (s)he wishes to support.
It is the society as a whole that is accountable for the profits made by the National Lottery. By supporting projects that are available to all Lottery players, a lot of those profits are regained by the society. The National Lottery is thus the country's biggest sponsor.
As a part of its constant fight against poverty, the National Lottery has launched , at the occasion of the festive season, for the second consecutive year and on top of its usual actions, the ThankYouWall on Facebook. The action takes place from 16 until 22 December 2013 and supports the following 4 selected organizations:
Moeders voor Moeders (Anvers)
Infirmiers de rue
Opération Thermos (Liège)
Cliniclowns
The goal is to collect 20.000 clicks and raise € 20.000 to be distributed amongst these 4 organisations.
Raphael de Borman Eventattitude